---
​​Print quality depends on printing technology and finish of the printed surface: smooth, glossy surfaces allow more detailed print and color saturation than rough, matte materials. Yet while glossy finish gives more vivid colors, matte finish gives a more classical, traditional media look.
​
Gallery quality
prints are prints printed with archival inks on archival quality long lasting surfaces.

​Art prints (giclée) on 100% cotton rag acid free archival paper give the best colors and details among matte prints. Recommended for traditional media, ink and black and white drawings, they also give a more classical look to digital paintings.
​
Photographic prints at Redbubble - the traditional silver halide prints - with rich color saturation and contrast are the best choice for colorful digital paintings. Choose luster finish for brighter, vivid colors (a fine grain texture paper) or metallic finish for more dimension, deeper colors and darker blacks (glossy paper).
Photographic prints on Kodak ENDURA Premier Paper offered at Redbubble are of archival quality.
---
At Redbubble prints are available in smaller size as art board and larger starting at A3 as art prints (Giclée), posters, t-shirts and more, including photographic prints on Kodak Endura Professional Metallic paper recommended for vivid colours and flames. Choose lustre finish if you want a brighter image. In general digital paintings will look better as photographic prints, but if you want more traditional feel or less saturated colors choose art prints.
Redbubble prints examples(change size and paper type at the site):

---
Art prints at Redbubble start at A3 size, but A4 size art prints are avaliable at INPRNT (ships from USA), Society6 (ships from Europe and USA) and Design by Humans (ships from USA), where various background colors can be chosen.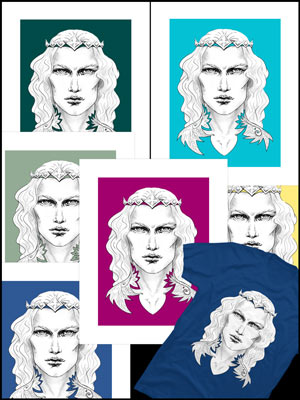 Tee-shirts & various background color prints at DBH.
---
If you cannot find what you are looking for -
message me
!